HUNTING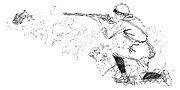 Zelendvor is one of the oldest hunting grounds in Croatia. It was founded in 1870 when Count Marko Bombelles delivered a large number of pheasants from South Moravia and set aside land for organised hunting in an area located in what is known today as Varaždinska County. Open fields with natural hedges, small woods, sandy and gravelly soil was ideal environment for breeding and hunting small game. With the professional guidance of the Lords of the Manor, Zelendvor became an ideal and rich hunting ground which attracted many foreign and Croatian hunters. The abundance of game and the old European and Austro-Hungarian principles of hunting etiquette also attracted many respected hunters from that time aristocracy.
The hunting ground owned by Zelendvor spreads over 8,500 hectares and is situated in north-west Croatia in the vicinity of baroque town Varaždin. The land is completely open, accessible and well-drained. The land is characterised by small agricultural plots with natural hedges, making it ideal for breeding and hunting small game.
Today Zelendvor is famous for individual and group hunts of grey partridge, pheasant, quail, woodcock, snipe, rabbits and brown hares. Hunting can be organised according to hunters' own preferences, either individually, with their own dogs, or accompanied by our own field master and beaters.